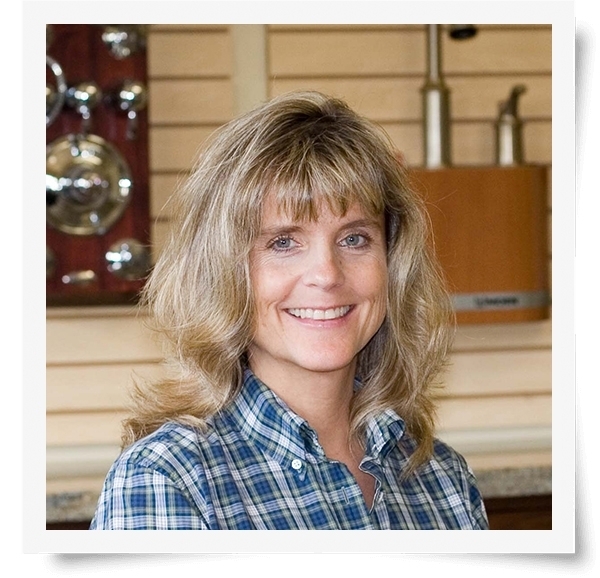 Kathleen Snell
Project Manager
Kathleen keeps the office running smoothly, but that's not all. A big part of her day involves purchasing plumbing fixtures, electrical fixtures, flooring, hardware, vanities – things like that – all at a price that's client-friendly. Kathleen also helps jobs run smoothly as well, as a Project Manager. She has been highly involved in worthy organizations like the Olga Reed School and the Girl Scouts, and now enjoys gardening, wood themed craft projects and playing with her dog Lucy.
The design center at Halsell Builders isn't so much a showroom as it is a place where you can roll up your sleeves and create great things, right alongside our design team.
It's where every single finishing material, from the flooring, hardware and backsplash to the chimney caps, paint and window casings, is considered and selected - decisions that are made through a three-step process.
First, clients are introduced to our designers, where they're encouraged to bring inspiration pieces - photos, pillows, maybe a bit of fabric. This is when our designers get a feel for your particular style. Next, Halsell designers present a complete palette of finishes for your review. The third step is the finalizing stage. And with that, finishing decisions for the entire project are complete.

This working design studio makes things simpler. Instead of scheduling meetings and appointments at the appliance store, the paint store, the cabinet builder and all the rest, we bring these pieces to you. We maintain a large selection of finish materials from vetted vendors and tradespeople, and we're confident not only of pricing, but of availability and reliability. So set your imagination free - because once it comes back home, it has a way of creating something beautiful.