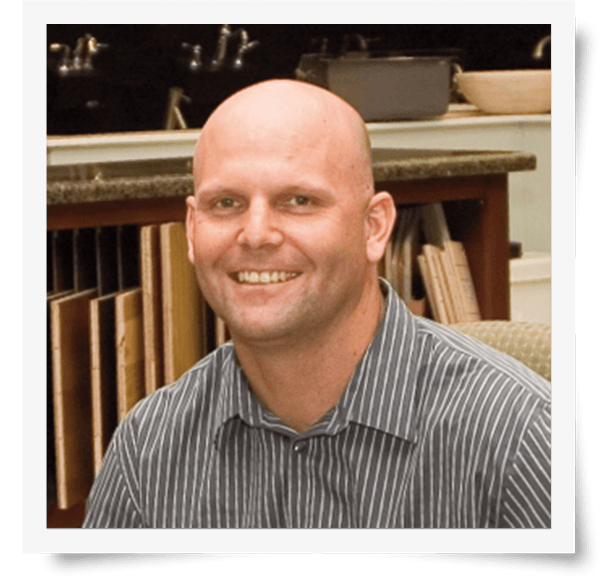 Joe Halsell
Co-Owner/CEO
In 1999, Joe launched his own branch of Halsell Construction in the Bay Area, but it wasn't long before he joined forces with his folks and his brother James to make Halsell Builders a family affair. As president/CEO, Joe leads the company's dynamic team of construction and design professionals. It means that every day, he's interacting with employees and clients, and that's important for a people person like Joe. As he explains it, being part of something much bigger than just your project is important, and it all starts with people. When Joe's not hard at work for his clients, he's busy with his other full-time job - being a dad.
The design center at Halsell Builders isn't so much a showroom as it is a place where you can roll up your sleeves and create great things, right alongside our design team.
It's where every single finishing material, from the flooring, hardware and backsplash to the chimney caps, paint and window casings, is considered and selected - decisions that are made through a three-step process.
First, clients are introduced to our designers, where they're encouraged to bring inspiration pieces - photos, pillows, maybe a bit of fabric. This is when our designers get a feel for your particular style. Next, Halsell designers present a complete palette of finishes for your review. The third step is the finalizing stage. And with that, finishing decisions for the entire project are complete.

This working design studio makes things simpler. Instead of scheduling meetings and appointments at the appliance store, the paint store, the cabinet builder and all the rest, we bring these pieces to you. We maintain a large selection of finish materials from vetted vendors and tradespeople, and we're confident not only of pricing, but of availability and reliability. So set your imagination free - because once it comes back home, it has a way of creating something beautiful.